Ride in the morning while it's cooler…
AND SPEND THE AFTERNOON CHILLIN' WITH OUR OWN
CHEF JAKE GANDOLFO.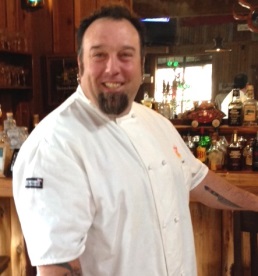 IT'S AN OPPORTUNITY TO HAVE FUN WITH JAKE IN SNIFFY'S AND LEARN HOW EASY IT IS TO MAKE COMTEMPORARY SAUCES. NOT ONLY WILL THERE BE DEMOS BUT YOU WILL HAVE AN OPPORTUNITY TO COOK ALONG WITH THE CHEF… PlUS LOTS OF TIME FOR Q's AND A's. EACH GUEST WILL ALSO RECEIVE RECIPE CARDS TO TAKE HOME
FYI…Chef Jake has just returned from New York City where he was invited to tape a segment of "Beat Bobby Flay." Even they've heard of his remarkable talent. His other credits include being a top finalist on MasterChef with Gordon Ramsay, chef/owner of Custom Culinary Concepts and adventure cooking all over America. Check him out on Youtube.
Now he calls SisterCreek Ranch home and is delighting our guests with his incredible culinary talents. It's safe to say…"he's larger than life and knows how to bring it."
DON'T MISS THIS AMAZING OPPORTUNITY TO GET IN TOUCH WITH YOUR INNER CHEF.
So call or email and make your reservation ASAP.
It will be first come first serve.
830-324-6525 or
info@sistercreekranch.com
RV Guests are welcome to sign up for $45 per person.